Steam & Condensate and Process Ventilation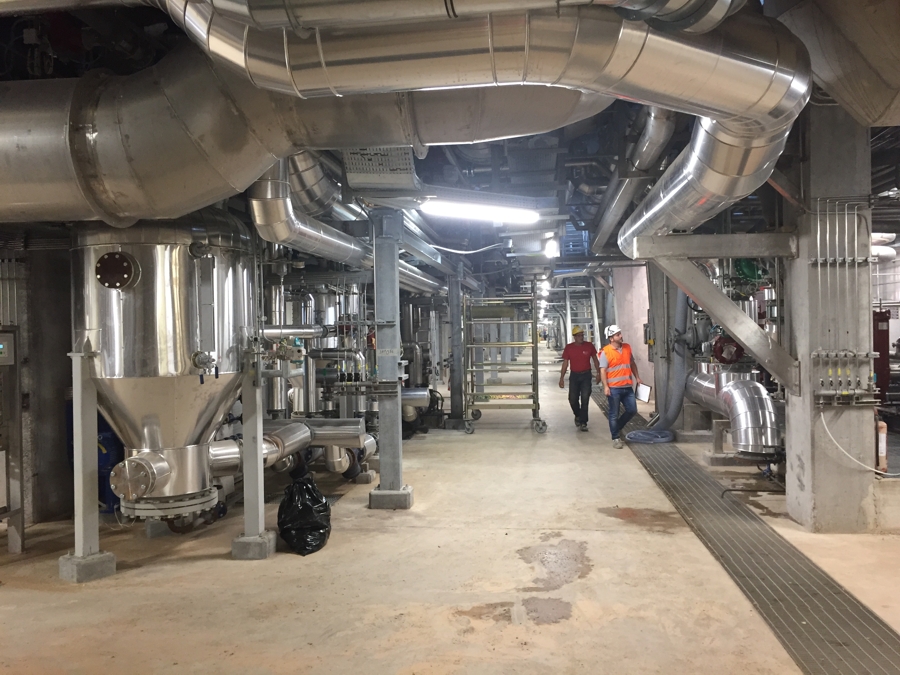 Steam and Condensate Systems
Steam and condensate system is the primary element to obtain high efficiency of drying section. Our steam systems are designed and optimized considering the grade of paper produced, working with maximum flexibility and energy efficiency.
Qualified technical personnel, guarantee for the optimal execution of engineering with detailed analysis of all system design aspects; which was achieved with the know-how over the years.


The engineering development includes the following documentation necessary to reach a high standard quality:
Detailed flow-sheet
3D and 2D assembly drawings
Isometric drawings for system pre-manufacturing
Selection with equipment technical specifications
Assembly material lists including piping, supports, material for instrumentation & electrical
Instrumentation assembly drawings and specification
System automation with supply of control panel and automation equipment
Technical documentation with system use and maintenance instructions.
---
The management of the modern steam systems is mostly simplified by using automation exclusively developed for practical and effective system operation. This eliminates operators focus on system management thus providing more focus on product.
The management system software is developed to optimize the drying section operating with the following advantages:
reduction of operator errors
shorter recovery times after paper breaks
eliminate steam vent in the atmosphere
reduction of heat loss at the water heat exchanger
perfect integration with the aero thermic system for a further energy consumption reduction
reduction of system start and stop times
Integration with modern steam generator systems (cogeneration, etc.)
---
Enclosed Hoods
Enclosed Hoods find their applications on multi-cylinders paper machines where energy saving, Effective Thermal insulation, maintenance free functionality and lifespan are very important. Built with large use of anti-corrosion materials, they combine sealing efficiency with disassembling easiness.
Hood Main Features
Roof and side panels with AISI 304 external sheet
Roof completely walkable and safely accessible thanks to the perimetric handrail
Panels with high-density rock wool core,
Doors for roller and canvas replacement
Aluminium made suction ceiling with regulating dampers
Frame heating system with hot air blown inside all tubular profiles
Lifting doors equipped with four safety systems
Air Handling Systems
Paper machine drying section ventilation system and heat recovery system have the function to ensure a proper air balance in the paper drying process. Ventilation system has to maintain the correct ratio between hood exhaust air and pocket ventilation blowing air. Evaporated water, produced by drying process, has to be removed by exhaust air system and expelled from hood to atmosphere, in order to avoid increase of humidity and reduction of evaporating capacity in the drying section. This has key role in productivity and control of energy consumption of paper machine and it is one of the best ways to establish proper environment conditions for operators of machine room. Lario Energy has developed wide range of heat recovery units able to assure a short pay back of investment.
Sheet Stabilizers
In the beginning of the drying phase, the sheet dries rather slowly. In this area, with enhanced machine speeds, it is difficult to maintain sheet stability. Due to the natural under-pressure created when the paper sheet is separated from the dryer cylinder surface, the paper sheet is more inclined to follow the smooth cylinder surface than the dryer fabric. This critical bottleneck can be avoided by placing a proper runability system in the first groups of the dryer section. Sheet Stabilizer runability concept offers solutions for different requirements depending on the grade and the targeted speed. The system is designed with a separate high vacuum zone where paper is taken off the dryer cylinder. This high vacuum area ensures tail and sheet transfer from the cylinder to the next Dryer Vac Roll, and provides excellent runability.
Advantages of Sheet Stabilizers:
Control of the sheet draws to optimize paper properties
Fewer breaks
Higher production speeds due to improved sheet stability
Faster tail threading
Less sensitivity to changes in dryness
Savings in furnish costs
Improved overall productivity
Automation
Lario Energy, on the base of its know-how coming from more than 30 years of experience in design and realization of hundreds of air handling systems and steam systems, has developed an innovative and powerful automation and control system. With the experience of having supplied several systems & our R&D has optimised an optimisation system, which will be user friendly and ease to operate, with the precision control of steam and condensate system.

The new Drying Sections, equipped with fixed siphons, need a marked subdivision of drying cylinders to guarantee the correct control of condensing charge, which has remarkable variation from drying cylinder to cylinder. This configuration of drying section needs a drastic increase of control loops of steam and condensate system. Lario Energy can provide and commission DCS – PCS systems, complete with specialized Software for the operation of steam and condensate systems and air handling systems, able to eliminate all well-known problems of management of systems.